Products
Purchasing
Specials
Please contact us for any current specials

Envirogroom Cleaners
Wholesale Pricing: Pet Industry Professionals and Retailers - Click Here __________________________________________________________________
Natural Green - Ready-To-Use Professional Herbal Formula Ear Cleaner

Natural Green is a professional strength herbal infused antibacterial and antifungal ear cleaner. Cleans, deodorizes and removes wax build up while leaving the ears refreshed. Formulated for dogs and cats. Non irritating and mild on skin. Available in 17 oz & 1 Gallon sizes.

Ingredients: Aloe, Tea Tree Oil, Eucalyptus, D'limonene, Salicylic Acid, Vitamin E, Witch Hazel, Ethanol.


Cranberry Facial - Ready-To-Use Professional's Choice Facial Cleaner

Cranberry facial is the professionals choice for a gentle and mild head and face cleanser. Formulated to clean and deodorize. Leaving the pets face kissable! Safe for dogs, cats, puppies and kittens.
Available in 18 oz & 1 Gallon Refill sizes.

Ingredients: Plant derived cleansers with Aloe, Vitamin E and Cranberry Extract.


Odor Blaster - RTU Deodorizing Spray

Odor Blaster works fast and effectively to remove unwanted odors. It is powerful enough to handle the toughest skunk odors. Odor Blaster is non drying and non irritating to the skin. Safe for Puppies, Kittens and Horses. Available in 16 oz & 1 Gallon sizes.

Ingredients: Odor Neutralizer with Aloe and Vitamin E.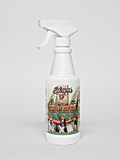 Scram Spray - Itch Relief Pesticide Alternative

Scram Spray™ is an anti-itch spray made with natural pesticide alternative ingredients that provide fast results. Use for flea and tick irritation and for soothing itchy irritated skin. Made with real natural ingredients and no unnecessary additives. Safe for puppies, kittens and horses. Available in 16 oz & 1 Gallon sizes.

Ingredients: Neem tree oil, Eucalyptus, d'limonene, Aloe and vitamin E.